If you are a regular or even a casual Face book surfer then it is very likely that you are quite acquainted with the usual features of adding as well as deleting friends, getting the status up to date, setting wall papers, creating and editing profiles, looking at other pages within the site as well as other applications. However, there is more to this wonderful site as you will discover below.
We cover some of the other features that you can find of use in the site and these could be the ones that have not been well talked or written about. You will find them very convenient to remain better linked to all your friends. So here's presenting 20 Face book tips as well as tricks that should come as a surprise to you. After going through them, if you have anything more or new to contribute, please feel free to do so and you can make use of the comment box at the bottom of the page for this purpose.
1) Face book chat feature on Mozilla Firefox sidebar
If you are a user of Firefox, then you can position the chat feature of Face book conveniently on the side bar as shown below in the screen shot. Unfortunately, this only seems to work for Mac users. Look for Bookmarks on the top navigation. Select Organize Bookmarks. Click New Bookmark tab and enter the following:
• Name: Facebook Chat
• Location: http://www.facebook.com/presence/popout.php
• Check Load this bookmark in sidebar.
Launch the Firefox sidebar, click Facebook Chat and start chatting with your Facebook contacts within Firefox.
2) Download Your Facebook Albums
The very easy to use FacePad application enables you to download every photograph sitting inside the albums of your friend's face book account pretty easily by just clicking a button. Look at the screen shot attached to get a good understanding of how to do it.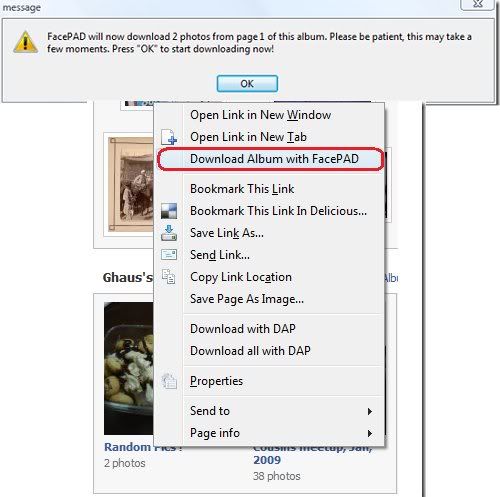 3) Share Flickr photographs with Facebook
The Flickr2Facebook is yet another easy application that allows you to get the photos in Flickr to your Face book account. Just follow the directions pasted in the screen shot below to know how to do that.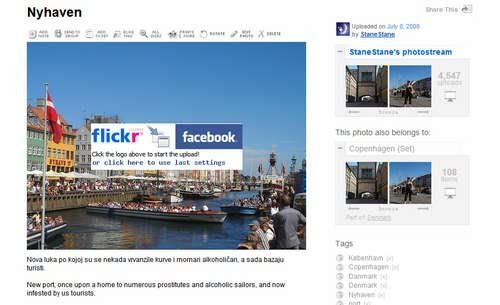 4) Updating Facebook without Entering Facebook
The screen shot below shows you two features in the form of hellotxt as well as Ping.fm which can be used by Face book administrators to complete the task of updating Face book pages.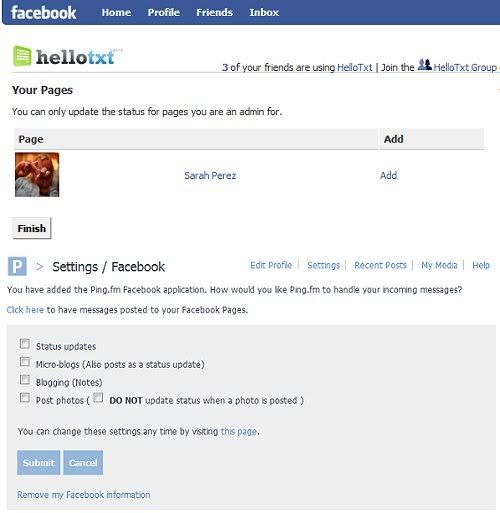 5) Scheduling Your Facebook messages
By using Sendible, you would be able to schedule and prepare your messages you want to send to your pals, office colleagues and even customers much ahead of time. This will save you precious time and you can easily send the messages thus prepared and scheduled at the required moment.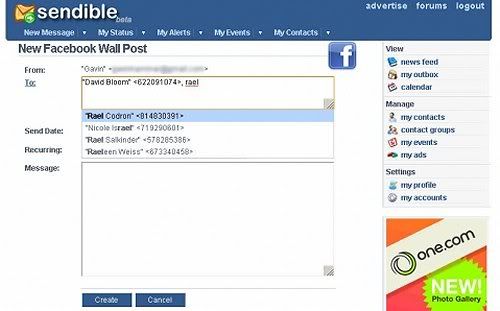 6) Hide your 'new friend' status updates
For those who add new friends that you don't want others to know about, you can choose to hide this status update through Makeuseof. You can set who gets to see your new friend status updates. , you would be able to conceal any Face book status update and ensure that this is known only to your very close pals.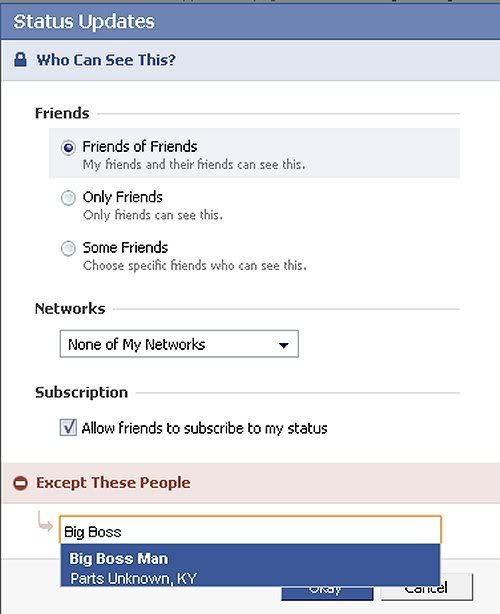 7) Create photo collages using your pictures
All you need to do is first click on the Friends tab, which will take you to the More tab. Here, you need to select the "Choose an option" feature and then select any of the dashes "—-" given there. You will immediately see the collage of your choice on the screen consisting of photos of the various Face book friends.
8) Find out who has blocked your messages or have deleted you as a friend
Want to know who was once your friend but no more? Try X-Friends, a tool that helps you keep track of pals who suddenly disappear and are no longer seen on Facebook.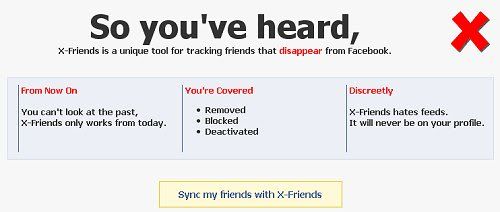 9) Choose the photographs you want displayed on the Profile page
By making use of a feature on Facebook that is still not well known as shown in the screen shot below, you can actually select specific photographs that should appear in the Friends box. All you need to do is to just select the "edit" pencil showing in the box and then type the various names of pals whose photos you want to appear in the box. This option will ensure the display of only those photos.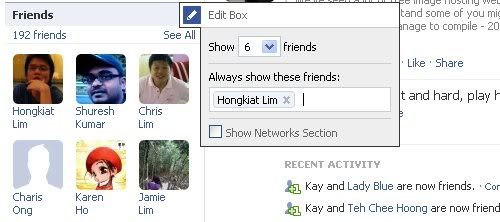 10) Eliminating annoying advertisements
You can make use of the Facebook Cleaner to completely eliminate all the irritating ads as well as unwanted updates that keep surfacing on your account as shown below.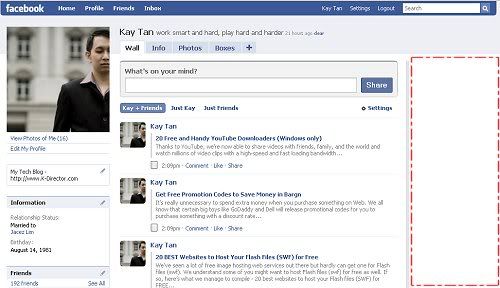 11) Synchronize your Facebook friends photos with the your Microsoft Outlook contacts
A wonderful application known as OutSync is available as a free tool in Windows that will help you synchronize the contacts you have in Microsoft Outlook with that of the photos of your friends in your Face book account. The application enables you to select a single or multiple contacts at the same time for this activity.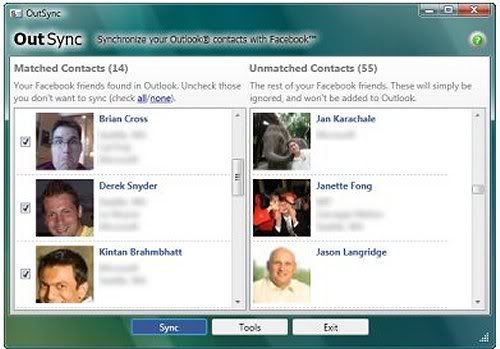 12) Display your Facebook Status on WordPress Blogs
Utilize the status feed of Facebook and combine it with the Word press RSS widget so that the status is displayed on the blog. This method will work on Word press blogs that are self hosted as well.
Step 1. Under your Facebook Profile, click on 'See All' in the Mini Feed column.
Step 2. Click on 'Status Stories' found under Mini Feed.
Step 3. Scroll to the bottom and look for 'My Status'. Copy the link of My Status.
Step 4. Log into your WordPress control panel, go to Design -> Widget. Look for RSS Widget, add it to your side bar.
Step 5. Paste the copied 'My Status' URL inside, and complete the name before saving the widget. Done!
13) Post your blog posts automatically on your Facebook wall
The Wordbook application enables you to copy blog posts from your blog to the wall of your Facebook account and when you hit the "Boxes" tab, you will notice even the most recent posts you have written on your blog.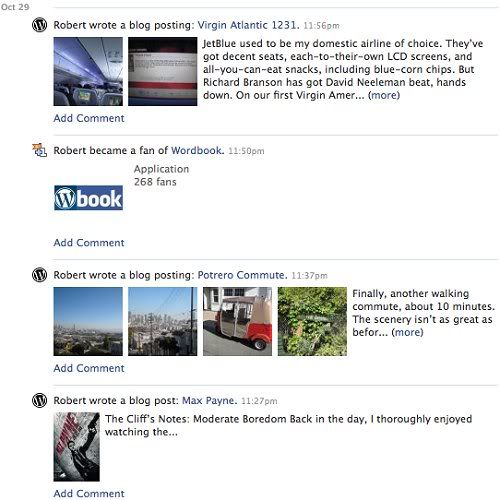 14) Accessing the Facebook chat feature on the desktop
Two applications Gabtastik as well as digsby will permit you access to your Face book chat without having to use the regular browser and this will be done using very little memory from the system and space on the screen as you can see from the screen shot below.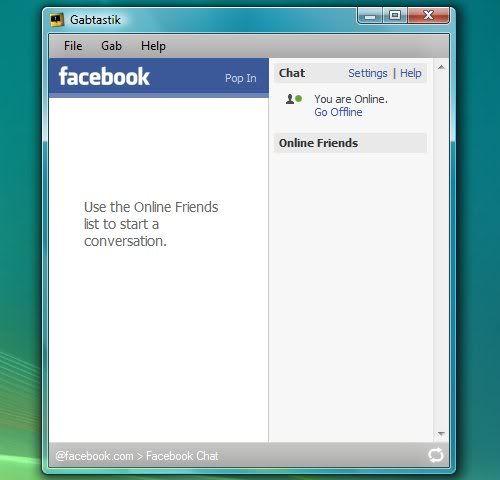 15) Create your own Facebook quiz
Another wonderful and novel application – the LOLapps gives you the capability of a quiz creator which can be used to make up different and popular quiz questions that are quite popular in Facebook.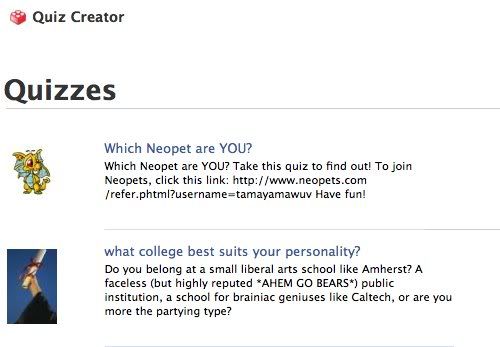 16) Selectively hide your online presence from specific contacts
In Facebook you have the facility of a friends list that is integrated with that of chat and this enables you to choose specific members from this list to whom you should be visible.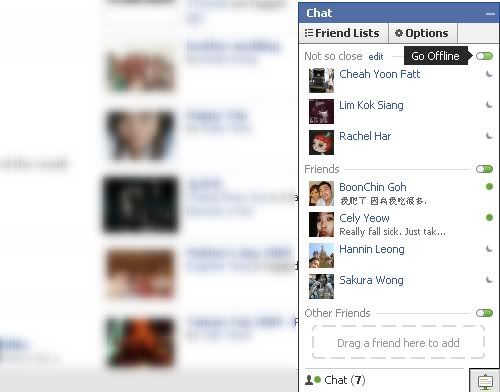 17) Get all relevant Facebook updates in your email inbox
The NutshellMail application does a great job of integrating your Facebook accounts and delivers the updates to the inbox of the email account most frequently used by you.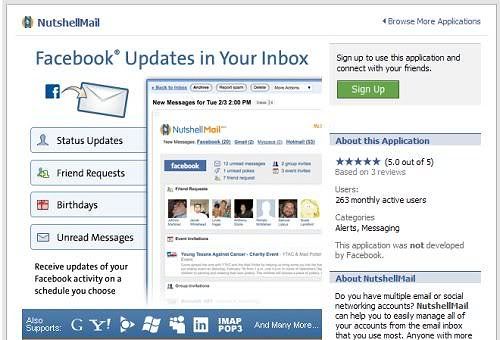 18) Update your Facebook status through Firefox
By making use of FireStatus, which is a utility application from Firefox for ensuring status updates, you can go ahead and update your status on Face book and other social networking sites.

19) Positioning Facebook on the desktop
Various applications such as Seesmic Desktop, Xobni, Scrapboy, Facebooker, Facebook AIR and Facebook Sidebar Gadget help you to use Face book on your desktop without the need of the regular browser.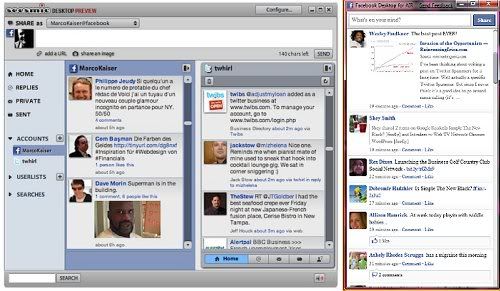 20)Edit your Facbook account as well as profile
The screen shot below shows how easily you can delete or cancel your account on Facebook and even terminate it along with your profile.
Comments
comments