Guardians of the Galaxy is probably one of the most surprising Hollywood successes in 2014. This relatively unknown and unpopular Marvel comic series actually managed to pull of quite a hit in the box-office netting more than $500 million near the end of its run. And if you watched it, you will probably agree that it was quite an entertaining film, not spectacular, but an overall good time in the cinema. Anyway, here are some interesting facts about this film that you probably didn't know.
1. Vin Diesel recorded a few hundred different voice takes of the phrase 'I am Groot' and included foreign languages
Though Vin Diesel could probably have recorded all the lines of Groot in one single day, but he didn't. He worked at providing a wide array of different voice tones for the seemingly one-liner character of Groot. And Vin Diesel actually had proved himself as an amazing voice actor in the 1999 film 'The Iron Giant'. Even James Gunn, the director was all praise for Vin Diesel's commitment to the role.
"The ways in which Vin Diesel says 'I am Groot,' I am astounded," Gunn says. "Vin came in and in one day, laid down all these 'I am Groot' tracks, and he's a perfectionist. He made me explain to him with [every] 'I am Groot,' exactly what he was saying…..Then Vin would sit there and he would do it and he would it again and again and again, and his voice is so rich and so beautiful and he really opened up and was this character. It was amazing when we first put that voice in there how much the character changed and how much he influenced the character."
2. David Bautista cried when he won the role of Drax The Destroyer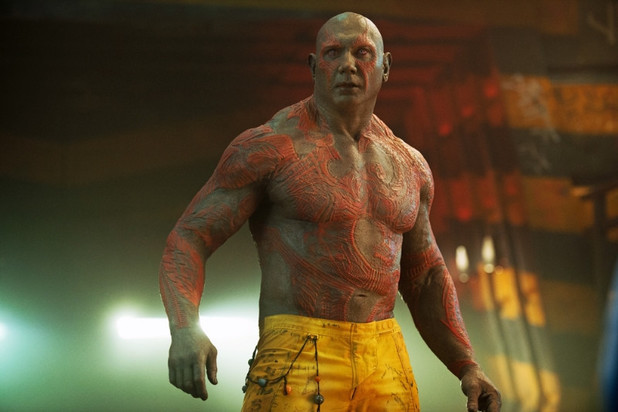 Yes, the same WWE wrestler. The giant of a man, David Bautista actually confessed to breaking down when he got the role. He shared that he had auditioned for many many different roles in films but no one opened the doors for him, until Guardians came along. Sometimes, it is the toughest-looking people that are actually the softies on the inside! Yes, this guy, cried like a baby…
3. Peter Quill's ship was named the Milano, after Alyssa Milano, Quill's childhood crush
While the 80's music tracks used extensively in the film was meant to show that Peter Quill was basically a regular guy, what was more interesting is how Peter Quill's ship got to be named 'The Milano'. This was not part of the original comic, where his ship was simply called 'ship'. James Gunn decided to play along with the story of Peter Quill's original crush in the comic with Alyssa Milano.
For those of you who asked, yes, Quill's ship The Milano is named after his awesome childhood crush @Alyssa_Milano. #GuardiansoftheGalaxy

— James Gunn (@JamesGunn) July 29, 2014
4. Rocket the raccoon was modeled after a specific celebrity raccoon called Oreo.
The raccoon is called Oreo and is a celebrity in the UK now with his own Youtube and Twitter pages.
A young Oreo, think he was about 12 weeks old here pic.twitter.com/bkBIqNGWIL

— Oreo and Friends (@oreoandfriends) June 15, 2014
Oreo chilling out in his hotel suite #oreoandfriends #GotG #RocketRaccoon #oreoraccoon pic.twitter.com/cJxWwQjaNm

— Oreo and Friends (@oreoandfriends) July 25, 2014
5. Yondu was actually one of the Guardians in the comics.
Yondu, played extremely well by Michael Rooker, known for his role as Merle in the Walking Dead, was actually an archer in the original comics series. This explains how his magic arrow weapon concept came from in the film.
6. Chris Pratt wasn't even considered for the role as he was chubby.
James Gunn had not even included Chris Pratt in one of the actors to be auditioned for the role as he was *ahem* fat. James Gunn agreed to audition Chris when he saw a selfie that Chris took of himself when he was filming Zero Dark Thirty as can be seen below. And when Chris came in to read for the role, James Gunn knew immediately that he was the right guy to play Peter, despite auditioning 50-60 other actors.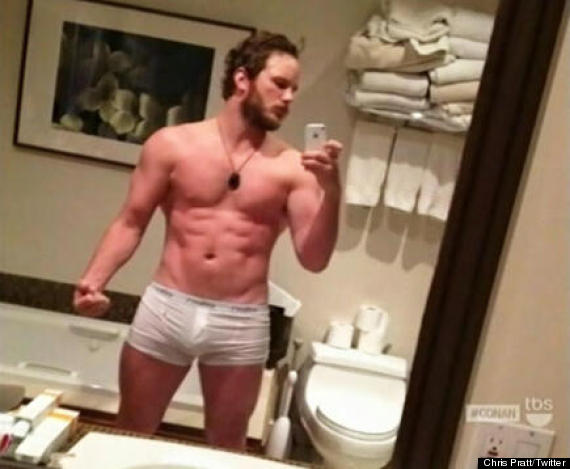 But his one question to Chris was, can you get back into the same shape? And I think the answer was obvious. He lost 60 pounds in 6 months.
7. Bradley Cooper modeled his voice for Rocket after Joe Pesci in Goodfellas.
You would never have guessed that Bradley was voicing for Rocket as it totally didn't sound like him. It was deliberate and Bradley took the high-strung personality of Tommy, played by Joe Pesci, in the Goodfellas.
8. Baby Groot = James Gunn
Indeed, who inspired Baby Groot's awesome dance moves but the director himself, James Gunn. Baby Groot was adorable when it danced to Jackson 5's 'I Want You Back' at the end of the film and it was James Gunn who gave his own dance moves to the growing tree.
Comments
comments